Cells function of our body depends on a continuous supply of oxygen from the blood. If the blood supply to a tissue would cease, the situation becomes very serious. After a few or a several minutes of cut-off of oxygen supply (depending on the type of tissue) in the tissue are irreversible changes. Many studies of this type was performed on the heart muscle. They showed that few minute cutting off blood supply to the heart muscle causing arrhythmia, which persists spontaneously after a certain time. Longer, few or ten minutes ischemia results in an characteristic set of changes, known as the "stunned heart" or systolic heart disorders of abnormal contractions of the heart, which are not accompanied by myocardial necrosis. These changes will go away after a few-dozen days. Ischemia (part) of the heart muscle lasting longer than several minutes causes it to die off.
Heart arrhythmias can lead to serious and irreversible changes in the body. The use of Dihydroquercetin followed by improvement of microcirculation and contractility of the myocardium, coronary blood flow, and decrease the viscosity of the blood.
In general we can say that under conditions of hypoxia occur in cells the changes that lead to the formation of large quantities of reactive oxygen species after somebody resumes the supply of blood and oxygen. Damage as a result of reperfusion after ischemia found especially in such organs like the heart, small intestine, liver and kidney. Irregular and fast heartbeat cause that blood circulates worse in the blood vessels and stops, which can lead to the formation of blood clots. Every blockage or clot blocks blood flow in the blood vessel. The main risk factor of atrial fibrillation continue to age.
However, it often happens that this disorder is associated with other health problems, such as hypertension, heart disease, and even an overactive thyroid gland. The necessary condition to maintain proper heart function is a systematic control, prevention (including quitting smoking, limiting alcohol consumption, moderate exercise, action to combat overweight and obesity) and correct the negative action of free radicals. Numerous experiences suggest that antioxidants and enzymes that digest reactive oxygen species can reduce the damage and help the pharmacological therapy.
Research has shown that Dihydroquercetin improves microcirculation, coronary blood flow and myocardial contractility and reduces the viscosity of blood . It allows somebody to restore heart rhythm. In addition, Dihydroquercetin normalizes blood cholesterol levels by inhibiting the development of atherosclerosis, which reduces the risk of heart attack and stroke.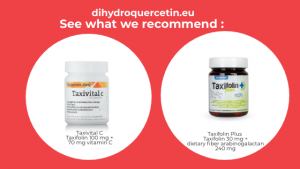 1/Druga twarz tlenu. Wolne rodniki w przyrodzie, G.Bartosz, Warszawa 2008, s.245 i 248.
2/ Vitamin C and Dihydroquercetin Creating a More Potent Vitamin C ByMark J. Neveu, PhD ,Collector's Edition 2007 LIFE EXTENSION s.119-125.
http://www.encognitive.com/file/Vitamin%20C%20and%20Dihydroquercetin%20Creating%20a%20More%20Potent%20Vitamin%20C.pdf
3/ BIOFLAVONOIDS CLASSIFICATION,PHARMACOLOGICAL, BIOCHEMICAL EFFECTS AND THERAPEUTIC POTENTIAL, K. RAJ NARAYANA, M.SRIPAL REDDY,M.R. CHALUVADI, D.R.KRISHNA *Drug Metabolism & Clin. Pharmacokinetics Division, University College of Pharmaceutical Sciences, Kakatiya University, Warangal-506 009. Indian Journal of Pharmacology 2001; 33: 2-16.